It's Christmas time, so that means it's time to whip up my favorite holiday cookie--Gingerbread cookies. Now, I don't get all "Fancy Nancy" and make houses. The most intricate thing I have made is the stand up cookies. But, who really wants cookies that just look good. I have committed myself to make cookies for the "College Finals Boxes" for the college kids from our church and we have a cookie/yard art party at the end of the week at our house, so I really had to crank them out today. This is a huge recipe depending upon how thick you like the dough. I made 2 batches today and I hope to ice them this evening.
Yesterday Cavett's school day was all about Gingerbread. They read the
Gingerbread Baby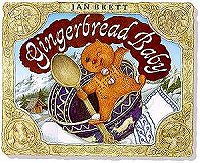 by Jan Brett. They played with homemade cinnamon play-dough with a gingerbread man cookie cutter and then their play went into the oven and magically became a cookie. He was a bit confused when he played with "his dough" this afternoon and I told him he couldn't eat it.
Here's the recipe. Enjoy!
Gingerbread Cookies
5 c. flour
1/2 t. baking soda
1 T. ground ginger
4 t. ground cinnamon
3/4 t. ground cloves
1 t. grated nutmeg
1 t. allspice
1 1/2 t. salt
16 T. butter (2 sticks)
1/2 c. firmly packed light brown sugar
1/2 c. granulated sugar
1 c. molasses
1 egg

Over a sheet of wax paper or in a bowl, sift together first 8 ingredients. Set aside.
In a mixer, beat butter until light and fluffy. Add both sugars. Reduce speed and add molasses. Add egg and beat until combined.

Add flour mixture in 4 additions, beating in each addition before adding more. Divide dough into 4 portions. Shape each into a disk and wrap in plastic wrap. Refrigerate 2 hours or up to 2 days.
Use one disk at a time from refrigerator. Place dough between two sheets of waxed paper and roll out to 1/4 to 3/8" thickness. Cut cookies.

Bake at 400 for 6-9 minutes depending on the size of the cookie.