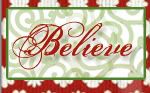 Around Christmas time you see lots of cute-sy signs and buttons, etc. that say "Believe." I have always come to take them as associated with Santa Claus. "If you don't believe, Santa Claus won't come." I have never taken it in a religious sense. I have never questioned whether Christ was born, so I haven't taken the word, "believe" in that way. It's a given to me.
Now, I am re-examining the idea. It's not His birth, but the hope He brings and His plans for me. That is what I need to be reminded of. God sent His son so that I may have life eternal. I totally believe that but it is the day to day hope for His plans in my life that I must be reminded to believe in. He has amazing plans and knows what our future holds for the next year and beyond. That is where my focus needs to be and that is what I need to believe in.
Jeremiah 29:11-14 says--"For I know the plans for you," says the Lord. "They are plans for good and not for disaster, to give you a future and a hope. In those days when you pray, I will listen. If you look for me wholeheartedly, you will find me. I will end your captivity and restore your fortunes. I will gather you out of the nations where I sent you and will bring you home again to your own land."
I have heard the first verse of this passage many times, but it is the last verse that really hit me. It has given me reassurance that we have done the right thing so far and that if we seek Him, He will fulfill the rest of His promise of rescue. Many of you know of the situation I am speaking of. I can't go into detail here. But, please keep us in your prayers for the coming year.
So, I guess for those of you who are still questioning your faith, go ahead and take it as "Believe in Christ's birth." For those of you who have stepped beyond, challenge your faith. What part of his hope and redemption do you need to believe in?
"For God so loved the world that He gave His only begotton son. That whosoever would believe in Him would not perish, but have eternal life." John 3:16