Our lives are slowly getting back to normal after being "Iked." Yesterday we said good-bye to our last house guest, even thought they still don't have power; they now have a generator. However, Dad is now gone and is teaching in Las Vegas for the week.
Last night I decided to let loose. It's about time to let Kendrick explore the wonderful world of utensils. I approach this with much fear and trepidation.
I hate messes and cleaning them up, but I know it must be done. So, I gave Kendrick yogurt in a bowl with a spoon. I feed him half of the bowl and then I let him have at it for the other half. He didn't do too bad, and I did help him every now and then.
We ended up with only one splat on the floor. He loved every slimy moment of it!
Today it was Mac and Cheese on a fork. Although it was easy to prick and get several on the fork, he gave up and used his fingers. It will come, I just need to be patient and accept the fun mess that he makes.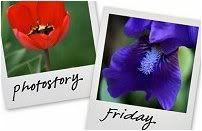 Hosted by Cecily and MamaGeek