After Cavett's nap, we wrapped a couple of presents and Cavett decorated them by coloring orange and blue balloons on them.

He even signed his name.
We waited for Dad to come home by riding in the wagon to the mailboxes and back.
Dad came home, we ate dinner and unwrapped presents.
My first present!
Kendrick enjoyed the bow on this one, hanging it over one shoulder and walking around with it.
Cavett helped unwrap.

I love it--a toolbox shape sorter! Thanks Cavett!
What fun! If only Cavett would let me play with it!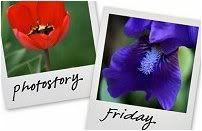 Hosted by Cecily and MamaGeek