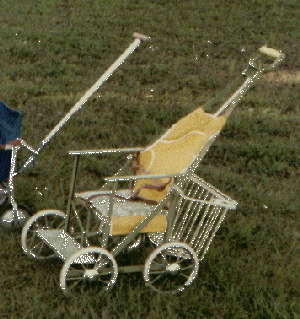 On Thursdays the maid comes to clean the house. I don't like being here, because Cavett tends to pull everything out and make a mess getting in the way. Then there is the whole issue of wet tile floors vs. carpeted areas. How do you traverse my house in this manner? Most of the time I teach SongPlay at church so that we are out of the way. But we are on break for a couple of weeks. So, after we helped her do the beds, we got out of the house. Normally, I find something fun for us to do that doesn't cost too much (zoo, picking strawberries, Bounce U). But today I decided to brave errand running.
Typically, I avoid running errands with 2 kids at all cost. I think I just wanted to see if I could do it. We had a well thought out list of exact things/places to do. First get gas (I nearly had a heart attack at the final price), then the Dry Cleaner--pick-up and drop-off went well. Always helps that they have a bowl of candy. Cavett got an uneventful haircut at a new kid's salon, SnipIts. Next we returned a pair of shoes that I decided against at Ann Taylor Loft and then to return an outfit for Kendrick at Marshall's (I got the wrong size.) All this time Cavett is being really good and is carrying the small bags.
Now, let me stop our procession for a moment and remind you that all these places are not together. Each time it is-- in the car-buckle up, stop car-unbuckle, traverse the parking lot--in the store-out of the store--cross parking lot and repeat. First off, what a sad world that we can't leave our children in the car while we run into the dry cleaners any more. That kind of trip takes seconds to accomplish and you can usually see them from inside the store. But, these days you can get arrested for doing such. Second, we did it "old school"--I never pulled out a stroller or sling.
As I was walking out of Marshall's holding Cavett's hand with Kendrick in the other arm, I thought of my mother. She must have looked like this. I don't remember her ever wearing a sling, a Baby Bjorn and only in malls, I think, did she ever take the umbrella stroller. No huge montrous pram for her. She carried us and held our hand. This led to the other thought--"I am really connected to these kids. They are depending on me and God is depending on me to take care of them and in raising them." Having more physical touch than pushing them around is such a better feeling. Yes, it is harder, and they like to go astray as Cavett did in Macy's as we looked for a "picture outfit" for Kendrick. But, I liken it to Jesus being the good Shepherd. If one gets lost, he goes looking for us. No, Cavett didn't get lost per se, but he does like to hide in the racks of clothes, just as we all did growing up.
It's comforting to be able to have a glimpse or a tiny feeling of what God must feel about us.
"The gatekeeper opens the gate for him, and the sheep recognize his voice and come to him. He calls his own sheep by name and leads them out. After he has gathered his own flock, he walks ahead of them and they follow him because they know his voice." John 10:3-4
"If a man has a hundred sheep and one of them gets lost, what will he do? Won't he leave the 99 others in the wilderness and go to search for the one that is lonst until he finds it? And when he has found it, he will joyfully carry it home on his shoulders." Luke 15:3-5