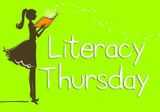 It seems that I have fallen off the "Blogging Band Wagon." I'm trying to accomplish so much with this move right now, that I am just not finding enough time to sit down at the computer. So, regrettably, I am putting "Literacy Thursdays" on hold. Don't worry, they will return mid-summer when you are dying to find something new to read and do.
With that being said, I will do my best to find a few minutes to keep you updated on family goings on and the move. So,...
Our point of interest today was a turtle. He appeared this morning on the road near our mailbox. As soon as I pointed him out to Cavett, he was out the door of the car touching the animal! Luckily, no fingers were bitten, but it was still pretty cool. Later on in the day, while I was peeling shrimp for dinner, we engaged in a discussion on shells which led to bones--comparing and contr
asting. Good conversation. I guess "Sid the Science Kid" has really made an inpact on him with his "investigating" and inquisitveness.
Tomorrow--the zoo.