I know...you were hoping to find the saga of our job/house/life transition today, but it is on hold just a little longer. We are headed up to Dallas again today and hopefully Stephen will give me the green light then. I am about to burst at the seams to publish! I will talk to people on the phone and forget that they don't know the whole story yet. Ugh......
Anyway, I still have a great story today. Yesterday we had Verdi's hair cut. I decided to go pick him up from the groomer because we were kicked out of our house for our first showing! (Yes, not even 24 hours after the sign was in the ground.) Cavett was very eager and excited to pick him up and was even concerned when we walked in and he didn't see Verdi.
The groomer brought him out and it was like Cavett hadn't gotten a new dog. He wanted to hold the leash. I couldn't touch the leash at all. He loved being pulled and he also loved guiding him. He was concerned with how we were going to get him into the car and where he would ride since we had our little car with us. He was concerned about how cold it was and that Verdi didn't have any hairleft to keep him warm. Cavett tried to cuddle with him the whole way home. Kendrick even got a kick out of it.
After arriving home, we had to wait in the car downthe street for almost 30 minutes while the family finished up looking at our house. It was nearly an hour and 15 minute visit. I guess they liked it???? Time shall tell.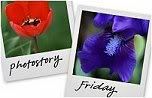 Hosted by Cecily and MamaGeek