As I have posted before the "Rearview" is usually reserved for the run down of the weekend's events. However, I have captured a few cute pics along the way this week, but nothing huge to write about. So, here is our "Rearview" of the week. Happy Photo Story Friday!
We headed to Gymboree for Open Play. It was Cavett's first time and he went bonkers. Their favorite was rolling the airlog back and forth and stacking the inner tubes on top of themselves.
As we were doing laundry, they found additional uses for coat hangers. The obvious was swords, but they also enjoyed hooking them as the "Barrel of Monkeys." Cavett led Kendrick around by hooking them together as well.
That evening's dinner was brought to you by Chick-Fil-A. Dad was still "working" of sorts. (A whole other story I can't get into here...) Anyway, there was a clown painting faces and making balloon creations. Cavett got a dragon on his face and a sword and helmet balloon. Interestingly enough, when asked how dragons get their fire, Cavett responded with, "They eat fireflys, and the fire comes out when they burp!" Quite imaginitive!
Tonight's bath ended in 2 burritos--our favorite after bath activity.
target="_blank">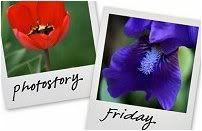 Hosted by href="http://mychaosmybliss.blogspot.com/" target="_blank">Cecily and href="http://whatworksforus.blogspot.com" target="_blank">MamaGeek