**Welcome to Literacy Thursdays. This post is designed to highlight some of our favorite books in hopes that you will blog about yours. We are always looking for new books to discover. Literacy is so important and even at the youngest of ages is crucial to development. If you don't have children of your own volunteer at a school, read to a neighborhood child, but get involved. It's a great way to share quality time with the youngest of our society.
Here's the play by play: You blog about your book. Give me a shout out in your blog by creating a link to my blog and using my Literacy button. Then at the bottom of my post, you will find Mr. Linky. Sign your name and add the web address of your post. Your post will automatically be linked to mine leaving a list for all to peruse. I hope you will join us.**
This week's highlight is
Previously by Allan Ahlberg and Bruce Ingman
. Previously, (ha, ha) I had picked up two other books written by these two authors hoping they would be worthy of my honor. One was not so good (
The Runaway Dinner
) and the other was semi-cute (
The Pencil
) and previously, I thought about writing about it. Each time I picked up these books I picked them for the illustrations only to realize they were written by the same authors.
Last night, I quickly ran through our church library and picked up another one. This one deserved the medal of honor. I read it to Cavett and Kendrick on the way home. Clever, I say. It is however on a higher thought process than 4 years of age although after some discussion and practice Cavett began to "get it." You see,
Previously
begins with Goldilocks and her story is told backward through the use of the word "previously." The book goes on linking fairy tale and nursery rhymes telling their stories backwards and linking them by adding in a few details of what the character was doing previously. At the end, the story comes full circle.
So, Cavett learned a new vocabulary word and I think tomorrow I will have him tell about his day on
his blog
using the same writing style. If it weren't nearing my bed time I would have written this whole blog in the same style as well. Time just didn't allow for it tonight, but just pretend in your head and think "What was I doing previously today?" It's an interesting point of view.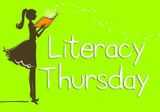 OH NO!!! My Linky got deletedwhen I added Cavett's blog link! So sorry y'all.