Yesterday was such a great experience of letting go and repentance. We had a our Lenten service at church after a quick Chipolte dinner. As Kendrick and I were in line to get our ashes, he gave me the sweetest hug and I asked him if he knew why we were doing this. We talked about how God made Adam from dirt and that our bodies will return to dust again one day but that God's spirit lives in us forever.
Their biggest question though was after getting their cross--"Does my cross look like a cross or a smudge?" It's a good question, actually.
Does our life and actions look like and follow Christ or is it just kinda, sorta something that resembles it? Whoa! That leads me to today's Lent offering.
2. My Comfort Zone
At first on the surface I thought, I have really stepped out of my comfort zone lately. I whacked my hair off shorter than ever and dyed it for the first time. Or maybe it is taking on my new business in sales. I have NEVER been in sales and talking to people like that is extremely uncomfortable. Then I thought, well, that is just like the world and what Satan wants my comfort zone to be--selfish. That's not what we are looking for here. It's not about me.
The Bible speaks MUCH about "comfort."
As a mother comforts her child, so will I comfort you. Isaiah 66:13
It seems the opposite is not necessarily un-comfortable in the Bible, but more distress. But, let's take a look at some people from the Bible. Here are some instances where stepping out of the "comfort zone" can be seen.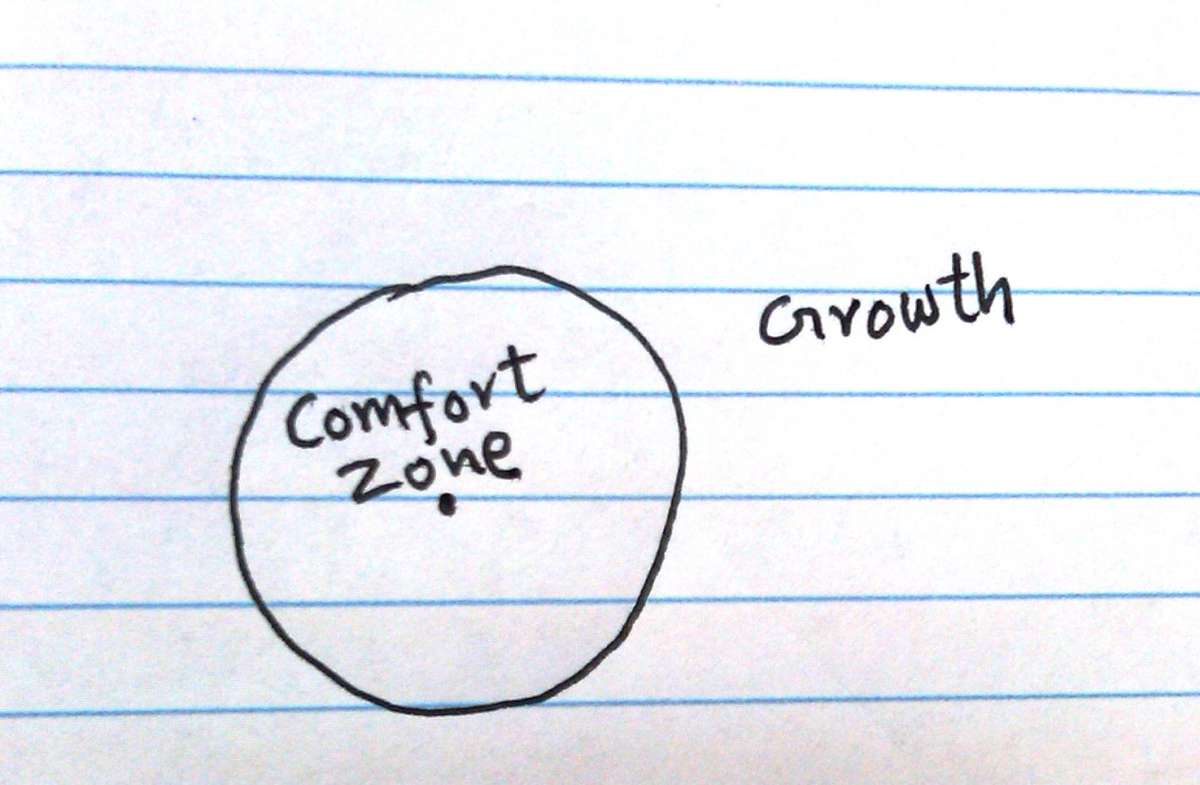 Example 1: Abraham- God asked Abraham to step out of his "comfort zone" when God said in Genesis 22:2, "Take your son, your only son, whom you love-Isaac-and sacrifice him there as a burnt offering." That would definitely be out of my comfort zone. How about you? But, he did as God commanded. Abraham trusted God and passed the comfort zone test. God instead provided a lamb for the offering.
Example 2: Moses- God appeared to Moses in the burning bush asking him to go to Pharaoh and bring the Israelites out of Egypt. In Exodus 4:10-12, Moses says besides being a leader and going against who raised him and going back to where he just killed someone, this speaking thing is totally out of his comfort zone.
Moses said to the Lord, "Pardon your servant, Lord I have never been eloquent, neither in the past nor since you have spoken to your servant. I am slow of speech and tongue." The Lord said to him, "Who gave human beings their mouths? Who makes them deaf or mute? Who gives them sight or makes them blind? Is it not, I the Lord? Now go; I will help you speak and will teach you what to say."
Wow. He asks us to step out of our comfort zone for HIS glory and and he will be right there to help us and provide what we need. Not my glory.
Example 3- Job. No man on earth has ever been put out of his comfort zone like Job. God didn't even ask Job. He allowed it all to happen, because he knew Job's heart. After just the start of the trouble and distress and extreme UN-comfortableness, Job still praised God. In Job 1:21 Job says, "The Lord gave and the Lord has taken away; may the name of the Lord be praised." Then after 42 chapters of distress, anguish and grief Job says in 42:2, "I know that you can do all things; no purpose of yours can be thwarted." Again this is a man that trusted God to take care of him outside of his "comfort zone" and was rewarded in the end. Job's life reflected the glory of God. Job PRAISED God for his lack of comfort.
What about the New Testament?
Example 4- Simon Peter, James and John. In Luke 5:10-11 Jesus says to them, "Don't be afraid; from now on you will fish for people." So they pulled their boats up on shore, left everything and followed him. Fishing was their livelihood. How would they make money, eat, live? They stepped out of their comfort zone to follow Jesus.
There are countless other examples in the Bible to follow in order to step out of my "comfort zone" and follow the path that God is directing me. Sometimes those are big decisions like when I was asked to teach BSF (pre-schoolers, I might add--I'm a middle school teacher) and present what I do with children to a crowd of 300 women! (Yikes that was out of my comfort zone, but it was totally a Moses moment.) Sometimes, it is in the everyday moments, tiny decisions, and reactions where we choose to respond with a smile and confidence in Christ, picking up our cross and following him, even when it is hard.
Now the question is, where is God asking me to step out of my own "comfort zone" to glorify Him. Right now, I am in a period of waiting and listening for the big decisions. But, daily it is Mark 8:34. My comfort zone is outside of my selfish, human nature. DENY MYSELF, take up my cross and follow Him. It's hard, no doubt. It's choosing to do what He is asking you to do, not what is easy and comfortable.
Do I always want to spend my Sunday afternoons teaching Children's Choir? No, but I do it for His glory. "Whatever you do, work at it with all your heart, as working for the Lord, not for human masters." Colossians 3:23 Could I just tell my child that we shouldn't argue and call people names at school and then just ground him for a bit? I could, but what better way is to take the effort and pull out the Bible and show him how humble and silent Moses was when Miriam was so mean to him in Numbers 12.
So for now, I'll keep my heart and ears open to where God is asking me to step out of my "comfort zone" knowing that he will provide what I need and be with me.
Even though I walk through the valley of the shadow of death, I will fear no evil,for you are with me; Your rod and your staff, they comfort me. Psalm 23:4